An Iraqi Democratic Future Network (IDFN) project carried out by the national association for defense of human rights in iraq.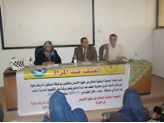 Implementing a project against the phenomenon of violence against women
The National Assembly for the Defense of Human Rights in Iraq Porsche education to work against violence against women in order to lift the injustice of women suffer from all types of discrimination, violence and marginalization in all joints of society. Workshops have been established in Baghdad and other governorates, and the rate of (25) participants per workshop. Were discussed SIDAW Convention and Article (41) of the Constitution of Iraq. In addition to the themes of reducing the different phenomena of violence against women within the family and the state's departments and the Iraqi street.
The workshop was moderated by teachers qualified in the areas of social awareness and humanitarian and human rights education for women and their access to sufficient information on which qualifying to claim their rights and defend themselves to the prevention of domestic violence, social and try to stop these violations through dialogue and methods to activate the lifting, in other cases they claim to punish those violations through judicial proceedings. In the course of this activity in the workshop also discussed the law of personal status and the SIDAW agreement, and prepare for the publication of a law concerning the rights of Iraqi women.